Obstetric forceps, a major innovation in the treatment of obstructed labour were introduced by the Chamberlen family about 1650, and were kept as a family secret for many years. William Chamberlen and his family were Huguenots who emigrated to England in 1569. In the year of Chamberlen's death, physicians at Marburg realised that St. Anthony's Fire, an epidemic disease characterised by severe limb pains, was caused by eating spoiled rye contaminated by the fungus now known as ergot. Pregnant women very often aborted. The midwives of the district gave several grains of ergot to induce labour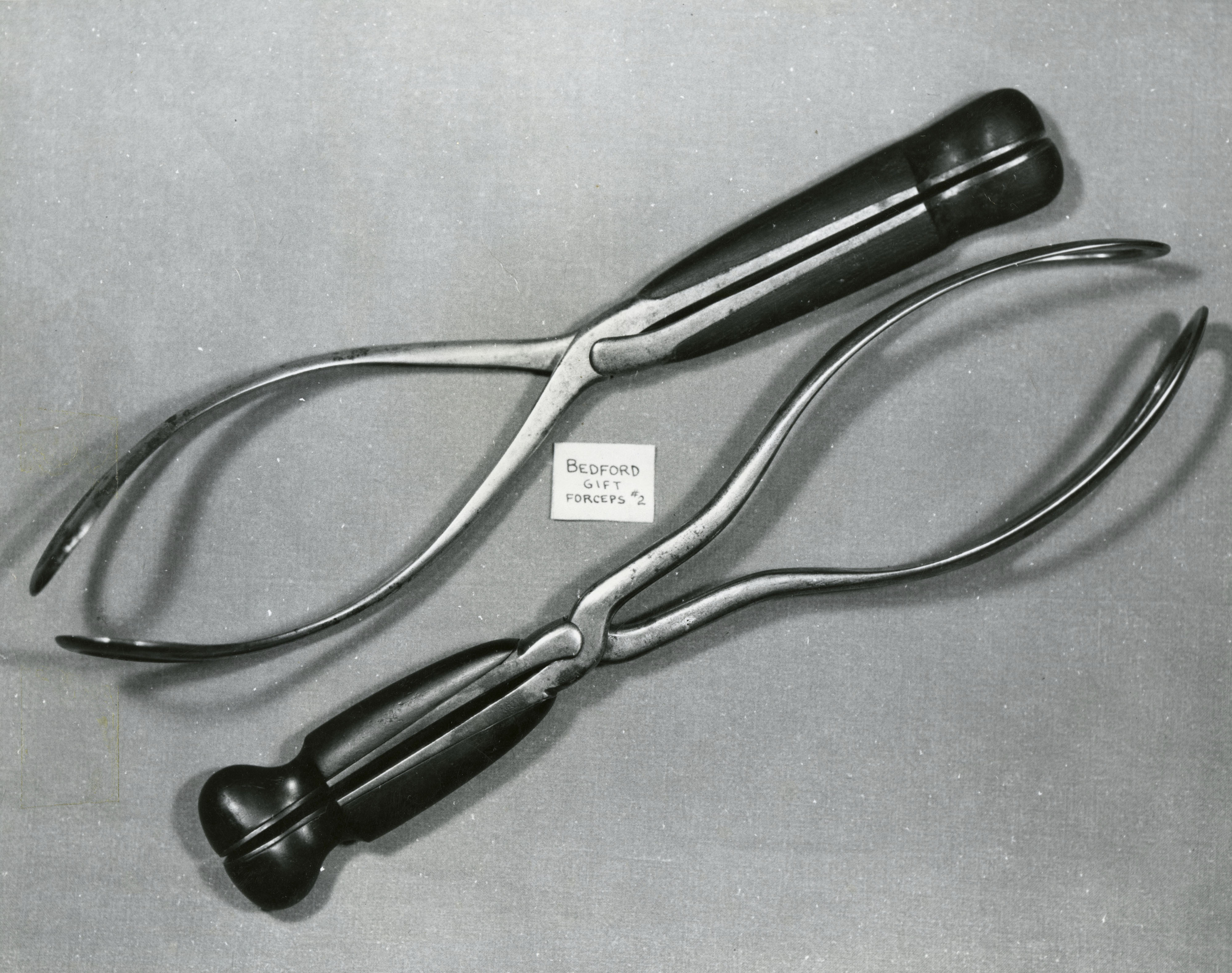 The eldest and the youngest of William Chamberlen's children--Peter I and Peter II, both became physicians, and one of them (probably Peter I) invented a crude but effective form of obstetric forceps. They took the machine with them to a confinement, in an ornate carved gilded box, so heavy that it took two men to carry it. They kept their secret, to the annoyance of the public, and their fellow physicians.
He who keeps so secret so beneficial an instrument as the harmless obstetrical forceps deserves to have a worm gnaw his vitals for all eternity.
Peter III died in 1683, and his widow hid a box in an attic of their house, containing three sets of obstetric instruments, including forceps in various stages of development, and a fourth pair of forceps, at an experimental stage.
Around 1700, Hugh offered to sell the forceps to Mauriceau, the famous French obstetrician, without success; but the secret gradually leaked, though we do not know quite how. By 1733, Chapman's midwifery text contained a description of forceps, and their use, and in European urban centres they were widely used.
The real pioneer in the use of obstetric forceps was William Smellie (1697-1763). Smellie practised family medicine in Lanark, Scotland for a number of years. He carried in his pocket, wherever he went his three tried remedies, spirits of hartshorn, tincture of castor, and liquid laudanum. An account rendered to one of his patients still exists: "Seven pounds sterling for amputation and cure of your leg."
As a young doctor, he was particularly interested in obstetrics, and distressed by the sadness of the results. He started to use such forceps as were then available, with little success. He set off in 1739, to study in London, and briefly Paris. Finally he returned to London, and set up in a very mean apothecary's shop, on or just off Pall Mall, with a paper lantern at the door --Midwifery taught for five shillings.
Midwifery was still beset by prudery and practised under the bed-clothes. But students came, and he offered free care to indigent women, thus providing clinical teaching material. It was a flourishing school at the right time. The first obstetric wards in Britain opened in Jermyn St. in 1739, to become in 1752 the General Lying In Hospital, in 1791, Queen Charlotte's Hospital. Smellie's lectures were published to be followed by his Treatise on Theory and Practice of Midwifery 1752.
Smellie's great achievement was the proper use of forceps. His forceps were either wood or steel padded with leather and a the simple ("English") lock. They were short, and he advocated their use only after the head had entered the pelvis. He controlled their use by a scientific study of pelvic measurements, introducing the diagonal conjugate measurement, measured by the fingers from the arch of the pubis, to the sacrum.
He realised that most of those who had been rickety in their infancy ...are commonly narrow and distorted in the pelvis, and consequently subject to tedious and difficult labours. He was the first to realise that the foetal head rotated during labour, the first to apply the forceps to the aftercoming head in a breech delivery, and the first to revive an asphyxiated infant by inflating the lungs with a silver catheter.
In several countries, notably Britain there was considerable strife between the mid-wives, and the man-midwives, male physicians who competed with the local wise-woman for the task and the financial reward. It was felt to be undesirable that men should be involved in so intimate a process. One Elizabeth Nihell wrote of Smellie that he was a great horse godmother of a he-midwife and charged that he and others taught midwives wrong, so that they would be called in to help.